In Loving Memory- pg 2
In Loving Memory- pg 2
Our dogs are part of our family. The hardest part of what we do, is losing our beloved companions. We miss them terribly, but they have left us with wonderful memories, and generations of themselves yet to come.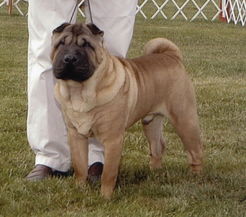 CH. Zing Zoo's Master of Success, 2/26/03 -1/10/14 CH. Good Fortune Good N Plenty X CH. Zing Zoo The Sierra, Uno passed away from mass cell cancer.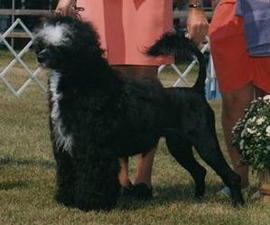 CH. DRIFTWOOD N BROEK'S GOLDFISH
June 7, 2002 – February 9, 2016
Sire: CH. Driftwood's Brown Trout By Hunter X Dam: CH. Driftwood's Lion Sleeps Tonight
Breeders: Morgin Quirin, Jean & Roger Hassebroek
GoGo was Trevor's AKC juniors' dog but she was my girl and constant companion. She was quite the show girl. Eukanuba's first BBE PWD winner. Her last show was at PWDCA Nationals in July 2015 at Frankenmuth, MI. We always had fun. GoGo was a wonderful therapy dog. She loved everyone and loved visiting. At home she was queen of the couch! GoGo was diagnosed with a brain tumor (cancer) and we could not let her suffer in pain. We made the ever so hard decision to let her go to the rainbow bridge, it broke my heart and I miss her every day. She was our foundation bitch and matriarch of our family. Our beloved dogs are our legacy from GoGo.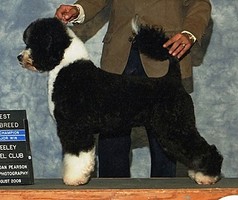 CH. DRIFTWOOD BROEK SUCCESS' U GO GIRL
October 26, 2006 – December 1, 2015
Sire: CH. Driftwood Broek Success At Love, Dam: CH. Driftwood N Broek's Goldfish, Breeders: Nancy Sedlacek, Morgin Powell, & Jean Hassebroek
"Ziggy" going Best of Breed in Greeley, CO under Judge Paula Nykiel. Ziggy finished her AKC Championship at this show with a 5 point major going Breed over 6 "Specials". Ziggy was our very first "home bred" PWD champion. She had her mother's undeniable PWD "smile" and got away with everything due to that. She was too sweet and cute, even when she stole that pizza off the kitchen counter. Ziggy passed away due to complications of an ear hematoma. We miss her so much.