In Loving Memory- pg 2
In Loving Memory- pg 2
Our dogs are part of our family. The hardest part of what we do, is losing our beloved companions. We miss them terribly, but they have left us with wonderful memories, and generations of themselves yet to come.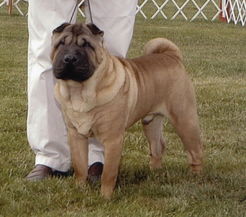 CH. Zing Zoo's Master of Success, 2/26/03 -1/10/14 CH. Good Fortune Good N Plenty X CH. Zing Zoo The Sierra, Uno passed away from mass cell cancer.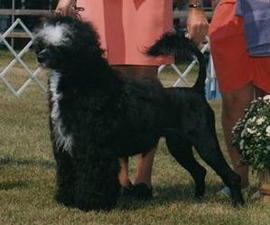 CH. DRIFTWOOD N BROEK'S GOLDFISH
June 7, 2002 – February 9, 2016
Sire: CH. Driftwood's Brown Trout By Hunter
Dam: CH. Driftwood's Lion Sleeps Tonight
Breeders: Morgin Quirin, Jean & Roger Hassebroek
GoGo was Trevor's AKC juniors' dog but she was my girl and constant companion. She was quite the show girl. Eukanuba's first BBE PWD winner. Her last show was at PWDCA Nationals in July 2015 at Frankenmuth, MI. We always had fun. GoGo was a wonderful therapy dog. She loved everyone and loved visiting. At home she was queen of the couch! GoGo was diagnosed with a brain tumor (cancer) and we could not let her suffer in pain. We made the ever so hard decision to let her go to the rainbow bridge, it broke my heart and I miss her every day. She was our foundation bitch and matriarch of our family. Our beloved dogs are our legacy from GoGo.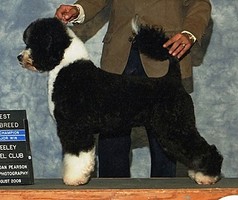 CH. DRIFTWOOD BROEK SUCCESS' U GO GIRL
October 26, 2006 – December 1, 2015
Sire: CH. Driftwood Broek Success At Love,
Dam: CH. Driftwood N Broek's Goldfish,
Breeders: Nancy Sedlacek, Morgin Powell, & Jean Hassebroek
"Ziggy" going Best of Breed in Greeley, CO under Judge Paula Nykiel. Ziggy finished her AKC Championship at this show with a 5 point major going Breed over 6 "Specials". Ziggy was our very first "home bred" PWD champion. She had her mother's undeniable PWD "smile" and got away with everything due to that. She was too sweet and cute, even when she stole that pizza off the kitchen counter. Ziggy passed away due to complications of an ear hematoma. We miss her so much.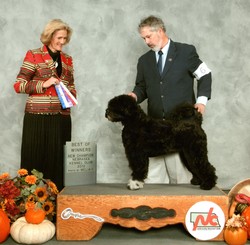 CH. SUCCESS' BEACH BABY SAGMAR "Kellen"
March 23, 2010 - September 11, 2020
Sire: CH. Driftwood's Beachcomber
Dam: CH. Sagmar's Li'l Panda Bear
Breeders: Arnie & Gail Mills
Kellen was owned and loved by Nancy & Trevor Sedlacek, She was handled by Scott Quirin to her championship, Kellen had the biggest heart and was as sweet as could be. She passed away from cancer and is missed terribly. Many thanks to Arnie and Gail for sharing her with us. Her legacy and spirt continues with her pups and grand/great grand pups and forever in our hears. Silly Kellen.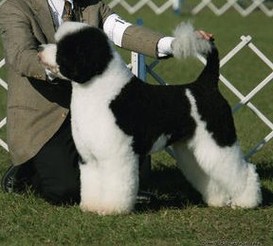 BIS/BISS CH. DRIFTWOOD BROEK SUCCESS AT LOVE
July 24, 2004 - April 17, 2018
Sire: BIS/BISS CH. Del Sur's Makin All The Right Moves
Dam: GRCH. Driftwood's Venus At Fishbay
Bred by Morgin Quirin and Linda Adams, Valentino or Tino was #1 PWD all Systems in 2007 with 5 Best In Shows in 2006 & 2007. He came home from the road to live a gentleman's life in the country and perform pet therapy. His legacy lives on with his get. We loved him so much, he was simply the very best ever.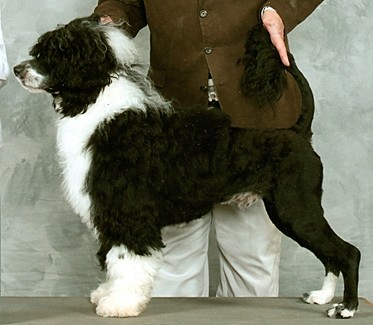 CH. DRIFTWOOD MIRAGE SUCCESS' COOL DUDE "Frisco"
DOB: July 10, 2009 - October 24, 2019
Sire: CH. Driftwood's Bacchus Dos RN
Dam: CH. Driftwood's Phoenix In The Skye
Breeders: Shelly Jakubowski & Morgin Powell
"Frisco" was co-owned with Cameron and handled by Scott Quirin to his championship. Frisco was light hearted and a very sweet, calm boy. He was perfect for a therapy dog and so good with children.
He also gives these qualities to the puppies he has sired. Frisco passed all the recommended PWDCA health clearances. We love and miss you dearly, Frisco Disco Duck Duck Dog!!