Favorite Links Page
Enjoy the information and education filled sites listed below:
Informational Websites
Beware of the back yard breeder/puppymill that are breeding Portuguese Water Dogs for profit. They are unethical breeders that say they guarentee the dogs health but do not complete health clearances on their dogs and usually start breeding them before they are one year old. They may sign a contract with you to guarentee your dog will be healthy, however in reality this paper is worthless because they do not complete the health clearances on the dogs they breed. They also typically do not return your emails or calls once health issues start. They also do not give you advise on how to manage behaviors once they have your cash and are done with you. They typically want to ship the puppy to you as they have excuses why it would be best for the puppy, in reality they do not want you to come to their home or barn to see where the puppies are raised. They also breed their females EVERY time they come in season. Ask for the parents AKC registration names and numbers so you are able to go online at www.offa.org and check to see what health clearances the dogs have. They need to have their eye certified yearly by a Veternarian Opthomalic Specialist, Hips must be Good or Excellent, Elbows normal, PRA, EOPRA, GM-1, MOS-PWD,and Improper Coat all Normal, JDCM must also be probable normal. Unthical breeders are also NOT involved with AKC events and are NOT members of AKC dog clubs and the Portuguese Water Dog Club of America. Do your homework before your family invests in something you are attached to with expensive health and temperament issues. Most of these unethical breeders are located in Missouri, , Oklahoma, Ohio, Pennsylvania and Iowa.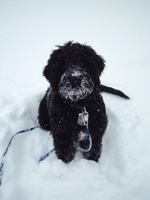 Favorite Informational Sites